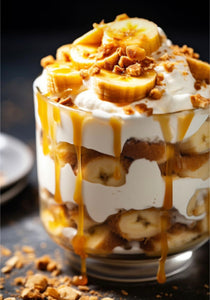 The holidays are not complete without pulling out all the stops for your favorite gourmand fragrances! We took notes of warm bananas and combined them with vanilla, a dash of creamy coconut, maple, graham crackers, toasted pecans and caramel to make the most delicious banana pudding you ever did taste! 
Notes:
Top - banana, maple, pecans 
Middle - creamy vanilla 
Bottom - caramel, graham cracker 
Our fragrance oils are a blend of essential and synthetic oils which ARE phthalate-free, for the cleanest burning candle possible!
Each candle is hand poured and made with 100% all natural soy wax and is free of dyes and chemicals.
Be sure to trim your wick before each use to prevent mushrooming and to have a clean, fresh, even burn each time! You want to get the most out of your candle!
Our candles are free from carcinogens, reproductive toxins, and other potentially hazardous chemicals often found in candles. These scents create safer home fragrance products you and your family can enjoy with confidence.