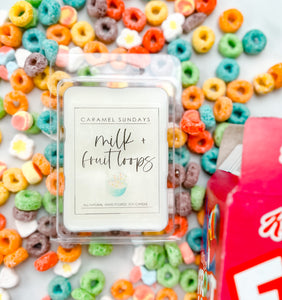 MILK & FRUIT LOOPS is a perfect blend of sweet orange, tangy cherry, and sweet vanilla bean with sandalwood create this nostalgic cereal scent!
SINGLE ORDERS OF ONLY WAX MELTS REQUIRE A MINIMUM PURCHASE OF 3 - ANY LESS WILL RESULT IN A CANCELLATION
Notes:
Top - citrus

Middle - cherry, orange

Bottom - vanilla, sandalwood
This listing is for ONE pack of wax melts- as shown in the photo! 
Our fragrance oils are a blend of essential and synthetic oils which ARE phthalate-free, for the cleanest burning candle possible!
Each wax melt is hand poured and made with 100% all natural soy wax and is free of dyes and chemicals.
Our candles are free from carcinogens, reproductive toxins, and other potentially hazardous chemicals often found in candles. These scents create safer home fragrance products you and your family can enjoy with confidence.
Smells exactly like Milk and Fruit Loops!!! I couldn't believe how well it mimics the real deal. Such a fun one to keep on hand!