It's official! You've just found your new favorite brand!
Sleigh WHAT??
If there is one thing we could say about our Christmas collection… IT'S LIT🌲 We like our candle fragrances like our Christmas trees - REAL THICK AND SPRUCY! We've made a pretty good name for ourselves for having some tree-mendously strong candles! SO- hold on for DEER life because it's almost time to jingle all the sleigh to checkout with our Christmas RESTOCK- December 10th at 7pm est!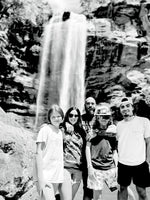 Hey There!
Welcome to Caramel Sunday's! We are John and Cierra, the faces behind this sweet brand! We are parents to three wild kiddos! Anthony (who is our part time team member) Maddox and Malahnia! We started this brand in 2018 with a few tools and a BIG idea! NOW, we are shipping candles all over the world!! Since opening Caramel Sundays in 2018, our growth has been exponential thanks to our amazing community of candle and skincare supporters! Our ultimate goal is to become one of the leading candle companies in the US and for the Caramel Sundays brand be a familiar name in every household that families know and love! Our candles are hand poured, labeled, packed and shipped in small batches with freshness and quality for YOU in mind! This ensures the BEST quality product for you, every time! After all, we want you to be apart of the Caramel Sundays community for many years to come, or even for your lifetime! Let's just stay friends forever! Every single step from start to finish is completed by our small team in our very own shop in Monroe, Georgia. We are so thankful you've found us and we hope that every package from us makes your day just a little sweeter and.... smell a little better!!
C A R A M E L -S U N D A Y S
Making candles a functional part of your everyday home decor