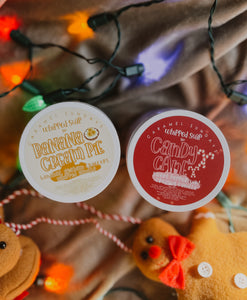 *Our sizes on whipped soap have decreased from 12oz to 8oz*

TRICK r TREAT smells like caramel apples and vanilla musk
Candy Cane smells like sweet peppermints and vanilla
Banana Cream Pie smells like bananas, whipped vanilla and graham crackers
Pumpkin Apple smells like sweet pumpkin, vanilla and apples
Campfire Ghouls smells like sweet Marshmallows with fireside embers
Funnel Cake smells like fried cake batter and powdered sugar
Caramel Dipped Apple smells like Granny Smith apples and warm caramel
Toasted Marshmallow smells like sweet marshmallows and pumpkin spice
Ice Cream is ICONIC for summer and smells identical to strawberry ice cream with notes of vanilla bean! 
Bohemian Mango smells like red berries, exotic florals and sweet mango
Peach Cobbler Cone smells like sugar cones, sweet peaches and brown sugar
Want to cleanse and soften your skin? Want to leave your skin glowing, protected and silky smooth after every wash? Let us help! Our face and body whipped soaps are enriched with high quality all natural oils with endless benefits for all skin types!
Simply apply to damp skin, lather with warm water and rinse! These soaps lather best when used with a loofah but of course, it's not required! 
WE USE A LOT OF AMAZING OILS IN OUR WHIPPED SOAPS. BELOW IS A LIST OF THE OILS AND SOME OF THEIR BENEFITS!
 Jojoba oil benefits include;
Jojoba oil is a humectant ingredient. This means that it works to seal your skin with a protective barrier to keep it from losing moisture. This may help prevent bacterial infections, acne, and dry flaking skin from forming.
Jojoba oil contains antimicrobial and antifungal properties. It kills certain bacteria and fungi that can cause salmonella, an E. coli infection, and candida.
Jojoba oil contains natural forms of vitamin E. This vitamin works with your skin as an antioxidant. This means that jojoba oil can help your skin fight oxidative stress caused by everyday exposure to pollutants and other toxins.
Apricot Kernel oil benefits include;
It is safe and healthy for sensitive skin  
It is light on the skin but deeply moisturizing  
Does not clog pores and lets your skin breathe
It is anti-inflammatory
It has anti-aging properties
It is rich in Vitamin E, which is a strong antioxidant
It improves skin elasticity
Grapeseed Oil benefits include;
Attacks bacteria that gets deep into your pours causing acne
Helps improve skin elasticity 
Evens out skin tone
Helps to soften dry rough skin
Almond Oil benefits include;
Moisturizes the skin

Anti aging benefits

Deep cleanses the skin

Acts as a natural sunscreen

High amounts of vitamin K combat dark under eye circles
Avocado Oil benefits include;
Moisturizes and nourishes

Relieves inflammation from psoriasis and eczema
Prevents and treats acne
Accelerates wound healing
Treats sunburned skin
Reduces signs of aging
Ingredients:  Glycerin, Aqua, Sugar, Apricot Kernel Oil, Jojoba Oil, Grapeseed Oil, Avocado Oil, Almond Oil, Sorbitol, Sodium Lauroyl Isethionate, Disodium Lauryl Sulfosuccinate, Sodium Chloride, Tetrasodium EDTA, Phenoxyethanol, Fragrance, Cosmetic Dye
Game Changer
I've been wanting to try this product. I love the scrub so I didn't necessarily think I NEEDED it. My skin has been super dry lately (& I live in the desert). I went reading reviews and another recommended this for dry skin and noted they didn't even need to moisturize after (I know 95% of the time I won't moisturize either). Anyway, this product has worked WONDERS for my dry skin. In fact I haven't even noticed any since I began using this every shower. I recently threw out all my bbw shower gels as well. I'm hooked on this product for life.. as I am most caramel sundays products I try. It is a must have! And you can't beat the smell. I got toasted marshmallow and it's dreamy. Thank you CS for making quality, healthy products that work. Highly highly recommend the whipped soap to replace what you're currently using! Or to add to the rotation with the scrub!
Best whipped soap
Love this soap. Has a Great lather. Scents I have had smell Perfect not too strong. One jar lasts a long time.
Caramel apple whipped face and body soap
First the scent of the caramel apple is amazing and I cannot say enough about the whipped soaps and how great they are for my skin. I have been using them for 2 years! Love them so much!
Whipped Goodness
I bought Apple Pumpkin and Aloha Kiwi and both smell amazing. I live in AZ where the Temps have been extremely high(110+) and when my soap arrived it was still in great condition. Feels so smooth and lathers so well.
Gorgeous scents/ whipped soap
I'm a lover of whipped soap especially gourmand scents. I picked up the Peach Cobbler and it smells amazing. It's also a beautiful moisturizing soap. I can't wait to try different kinds. Love!